When: Friday, December 4th 2020 | 09:30 am – 11:30 am
Where: Zoom link sent via RSVP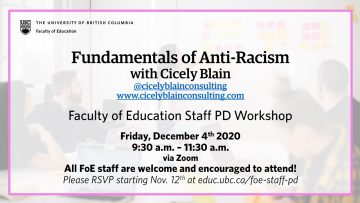 Event Details
Friday, December 4, 2020
9:30 – 11:30 a.m. Keynote speaker Cicely Blain
Ponderosa Commons Oak House, Ponderosa Ballroom
6445 University Boulevard
Light refreshments will be provided.
Keynote Speaker
Cicely Blain, consultant, facilitator, writer, and artist based in Vancouver B.C.
We are fortunate to have engaged Cicely Blain, CEO and Founder of Cicely Blain Consulting, a Vancouver-based diversity and inclusion consulting business, to facilitate the session. Learn more about our guest speaker, Cicely.
"Fundamentals in Anti-Racism"
Cicely Blain will provide an interactive workshop that invites Faculty of Education staff to explore how as a community, we must commit to continuous learning in order to understand and assist with the dismantling of racist structures in our Faculty and in society. Participants will explore what race means in their own life, and how they might work toward greater freedom for themselves and their colleagues at work.
All Faculty of Education staff are encouraged to RSVP for this free session. Space is limited.
Feedback Form for the Professional Development Workshop