When: Thursday, November 14, 2019 | 09:00 am – 11:00 am
Where: Ponderosa Ballroom, Ponderosa Commons Oak House; 6445 University Boulevard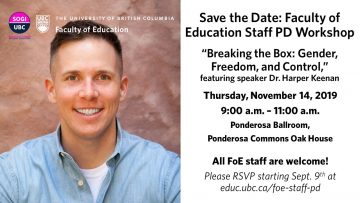 Event Details
Thursday, November 14, 2019
9:00 – 9:30 a.m. Mingling with fellow staff members
9:30 – 11:00 a.m. Keynote speaker Dr. Harper Keenan
11:00 a.m. Event Wrap Up
Ponderosa Commons Oak House, Ponderosa Ballroom
6445 University Boulevard
Light refreshments will be provided.
Keynote Speaker
Dr. Harper Keenan, Assistant Professor of Gender and Sexuality Research in Education.
Currently the Robert Quartermain Assistant Professor of Gender & Sexuality Research in Education, Dr. Keenan's work involves the ways in which educators and their students, from early childhood to secondary school, might work together to interrupt sociocultural processes embedded in the heteronormative system.
"Breaking the Box: Gender, Freedom, and Control"
Dr. Keenan will provide an interactive workshop that invites participants to explore how gender shows up in everyday experience, especially in educational settings. Participants will explore what gender means in their own life, and how they might work toward greater gender freedom for themselves and their colleagues at work.
Please register for the event below. Space is limited.
Thank you for your interest in this event. Registration is now closed, for more options please contact Faustina Cheung at info.educ@ubc.ca.
Feedback Form for the Professional Development Workshop
This form is not yet available.