When: Thursday, May 21, 2020 | 12:30 pm – 2:00 pm
Where: Online only, via Zoom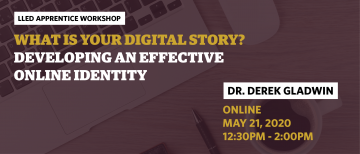 Presenters: Dr. Derek Gladwin
Registration: https://ubc.ca1.qualtrics.com/jfe/form/SV_a3qY61LIlRPVpTD
Deadline for registration is Monday, May 18th.
This workshop is offered to LLED students only.
---
What is your digital story? Developing an effective online identity
What is your current digital story and how might you rewrite it to reflect your professional goals as a graduate student in education? What happens when other colleagues or prospective employers search for you on Google? Does your digital footprint contain a cohesive story?
This workshop explores these questions by affording participants the time and space to reflect on their current online "digital identity" and analyze their presence and behaviour on the internet as a process of professionalization. The focus will be to discuss how graduate students can craft an effective professional digital identity through internet searches. Participants will also learn how to develop tools and enhance digital footprints through images, titles, taglines, websites, streaming and social media. The ultimate aim is to gain practical knowledge and acquire tools to create a professional digital identity within the duration of the workshop, while also developing a longer-term plan.
---
Note: Participants must have both a computer (e.g., desktop or laptop) and mobile device (e.g., smart phone or tablet). No digital media experience is necessary.