September 3, 2019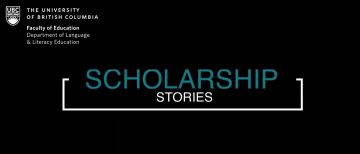 We are excited to share with you the first installment of the LLED Scholarship Stories, featuring Dr. George Belliveau, Professor and Department Head of LLED.
The Scholarship Stories is a video series created to highlight the distinctive and diverse research taking place among our faculty. These short video interviews provide a personal introduction to their research interests and teaching practices. In the coming weeks we will begin releasing the videos on our website and on @UBC_LLED. We hope that through these videos you'll be able to learn more about our unique and dynamic community.
Watch the first episode now on our website!