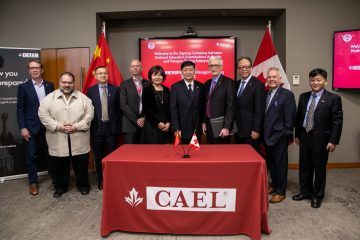 Paragon Testing
June 25, 2019
Paragon Testing Enterprises and the National Education Examinations Authority (NEEA) of the Chinese Ministry of Education have signed an agreement to deliver the Canadian Academic English Language Test – Computer Edition (CAEL CE) in the People's Republic of China.
The agreement was signed by Mr. Jiang Gang, President of NEEA, and Dr. Donald Wehrung, President and CEO of Paragon.
The event was celebrated at Paragon's head office in Vancouver with representatives from NEEA; Paragon; the Consulate-General of the People's Republic of China in Vancouver; the British Columbia Ministry of Jobs, Trade, and Technology; The University of British Columbia (UBC); and the Canada China Business Council.
Link to full text.