When: Wednesday, October 27th | 5:00 PM – 6:30 PM PDT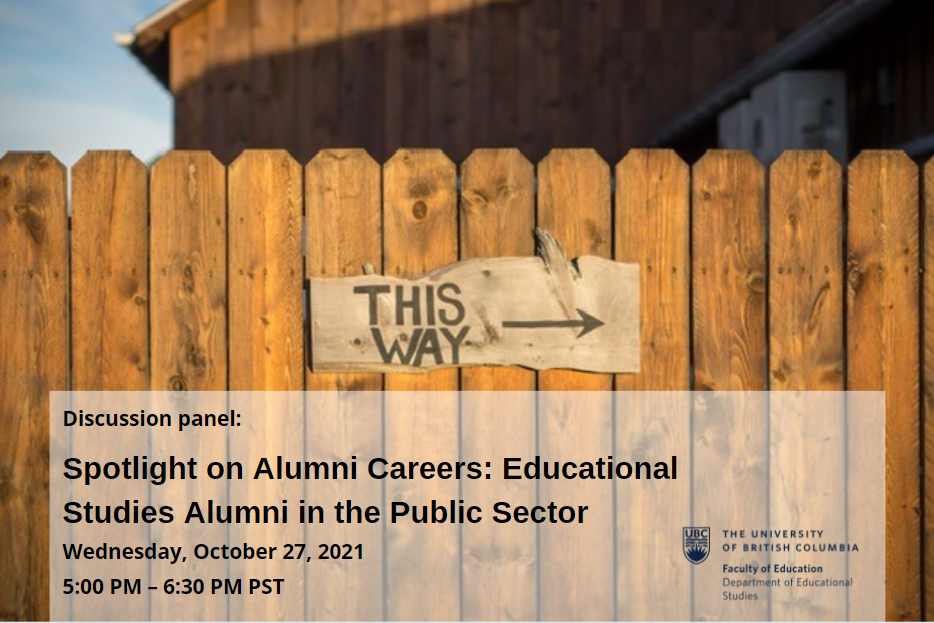 The Diverse Career Paths of Educational Studies Alumni study and initiative is organizing its second panel entitled Spotlight on Alumni Careers: Educational Studies Alumni in the Public Sector
The Spotlight on Alumni Careers panel series aims to support Education graduate students in broadening their career avenues by showcasing the career stories and experiences of Educational Studies (EDST) Alumni. Each panel highlights alumni from a different sector. EDST Alumni will share their personal journeys and discuss how their current work is informed by their graduate studies. The panellists will inspire students and alumni who are looking for new, creative, and meaningful ways to contribute to society.
Whether in the municipal or tribal government, the Police department or the Department of Labour, Skills and Immigration, Educational Studies (EDST) alumni have gone on to seemingly every area of public service. In this panel, we will hear from EDST alumni who serve the public in various ways.
Organizers and Co-hosts:
Mary Kostandy: Co-investigator: PhD Candidate, EDST, Faculty of Education, UBC
Michael Murphy: Co-investigator: Manager, Alumni Engagement, Faculty of Education, UBC
Introductory remarks:

Dean and Vice-Provost, Graduate and Postdoctoral Studies, UBC
Dr. Susan Porter is the Dean and Vice-Provost of Graduate and Postdoctoral Studies at UBC, and a Clinical Professor in Pathology and Laboratory Medicine. She was the President of the Canadian Association of Graduate Studies from 2017-19. Throughout her 20-year career in graduate education leadership, she has sought to promote a student-centric orientation to graduate education, with a special focus on holistic development and a rethinking of research graduate education's core – students' research and theses – to better prepare them for the urgent needs of the 21st century. Among other initiatives, she co-led a CAGS task force on the subject, and implemented a number of programs at UBC that demonstrated the immense value and legitimacy of this broadened perspective. She is the 2020 recipient of the Council of Graduate Schools' Debra W. Stewart Award for Outstanding Leadership in Graduate Education.
Panelists:
Adult Education Curriculum Consultant, Literacy, Humanities & Social Sciences, Province of Nova Scotia, the Department of Labour, Skills and Immigration
Andrea Thoms is the daughter of a Canadian father and a Trinidadian mother and both her parents, as well as numerous extended family members, are or have been educators so she has always known her path would lead in that general direction. When she was ten years old, her family moved to Japan, where she attended both Japanese public school and the American School. She had multiple opportunities to teach English as a second language in a variety of contexts and got her BA (English) at Acadia University in Nova Scotia, and then after a year of living in Vancouver, BC, moved back to the East Coast to do her BEd at St. Thomas University in Fredericton, New Brunswick. Afterwards, she returned to Vancouver for 13 years and got her Master's degree at UBC. Before landing her current position with the province as a Curriculum Consultant, she taught both general and academic ESL, before becoming a Director of Studies.
Rincon Education Department Manager, Rincon Band of Luiseno Indians
Claudine Montes is of Southern Ute Tribe and Mexican descent but she grew up in the San Diego area. Claudine attended San Francisco State University where she got her Bachelor's in Broadcast Communication Arts and then continued on to get her Master's degree in American Indian Education. From there she took a job at the University of New Mexico as the Tribal for the Native American Studies Department. After working at UNM for several years she decided to go back to school to get her PhD at the University of British Columbia in Vancouver, Canada where she got a very unique opportunity to study in a First Nations Higher Education program called the Ts''kel Program. There she had the great luck to meet and work with Indigenous people from around the world and live on the traditional territory of the Musqueam First Nations Band. Dr. Montes has worked in Native Education for over 25 years with a brief time away to work for the Southern California Tribal Chairman's Association in government relations.
Mayor, Town of Newmarket, Ontario
John Taylor has been the Mayor of Newmarket for 3 years and also sits on the Council for the Region of York (pop. 1.2 million). He was the Deputy Mayor for 12 years previously. He is also the Chair of Housing York and sits on the board of Newmarket-Tay Hydro, AMO Housing & Homelessness task force, York Region Rapid Transit Corp, YorkNet Broadband corp., Newmarket Economic Development committee, etc. He has spent considerable time focusing on policy related to Housing and Homelessness. He has successfully moved forward policy committing local towns and cities to provide 2 acres of land each every five years for affordable housing. He is a former advisory board member of Teach for Canada.
Detective, Vancouver Police Department – Recruiting Unit 
Keith Dormond has worked as a police officer with the Vancouver Police Department for over twenty-three years.  He has specialized in the areas of patrol, domestic violence and stalking, mental health, and recruitment.  Prior to becoming a police officer, he completed a Master of Social Work Degree at Carleton University and worked for four years as a social worker in Toronto and Vancouver.  Keith recently graduated from UBC with a PhD in Educational Studies.  The focus of his doctorate is how Canadian police, social workers, and mental health professionals understand and respond to honour-related violence and oppression.  His research was supported by the UBC Public Scholar Award.
Moderator:
Business Career Centre, Sauder School of Business, UBC

I have been working in student affairs and higher education for the last eight years. These experiences have focused on career development, international education, and student engagement. I completed an undergraduate degree in psychology at the University of Calgary before moving to Vancouver in 2014. In 2021, I completed the Master of Arts in Educational Studies program. As part of this program, I completed a thesis on the Indigenization of student affairs and services in Canadian higher education. Seeing post-secondary students make connections between their academic pursuits and their career development brings great joy to my professional life. When not thinking about work, I enjoy exploring local coffee shops and craft breweries on my bicycle.
---