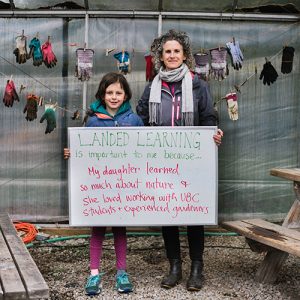 The Star Vancouver
By: Melanie Green
April 25, 2018
The Star Vancouver did a thorough write up of the benefits that the UBC Intergenerational Landed Learning Project (ILLP) brings to its community.
The initiative offers authentic outside-of-the-classroom learning opportunities for children, as they work side by side with a diverse group of people of many ages who have spent their lives learning from the land.
The ILLP is an award-winning teaching, learning, and research initiative that unites collaborative teams of elders, younger adults, and school children in learning with and caring for the Earth. Participants grow, tend, cook, and share food at UBC Farm and explore the connections among human and non-human communities, places, and local environments.
Link to full text.
Story via UBC News.