November 9, 2018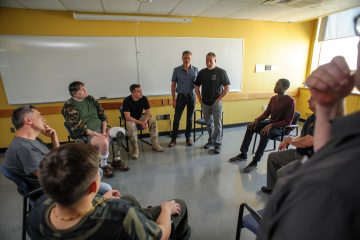 Remembrance Day brings new hope for vets coping with trauma as 98% of first 1,000 vets to take program complete it; 90% return to productive lives
It has been 100 years since World War One ended and since then we have still seen a constant stream of conflicts around the world. Many soldiers see others killed or lose limbs in battle, which has created a prevailing attitude among them of "why am I to complain about my time in the service?  Others have had it worse than me."  This unfortunately comes with the territory of being a solider, since they are seen as someone who can handle anything that is thrown at them.  With Remembrance Day approaching, we remember those who have lost their lives, it's also important to remember that those who return from battle don't always return whole.
Times seem to be changing as we look at the wellbeing of our veterans, not just physically but emotionally and mentally. As we grow, we are starting to move from a mindset of soldiers don't need psychiatric help during or post service to a place where we are actively creating programs that will get them the help they require.  We are starting to recognize the immense toll that war and military service can have on those who choose to devote their lives to the protection of people around the world.
Helping to usher in this new world of understanding and change is the UBC developed Veterans Transition Program. First created by Dr. Marv Westwood, out of the Centre of Group Counselling & Trauma (CGCT) at the Faculty of Education in UBC, the program helps men and women returning from military service transition to productive civilian life.  Having now treated one-thousand military veterans over the last 20 years, the CGCT is helping to craft a new narrative about our returning veterans and how they can be helped with stress injuries, most commonly known as Post Traumatic Stress or PTSD. Post Traumatic Stress can cause depression, anxiety, shame and an increased risk of suicide for those who are affected.
The program that has been put together consists of a series of group sessions help on weekends over a six week period.  This approach to post-service counselling has shown to get through to veterans in a way that traditional one-on-one counselling has not based on feedback from its participants.  Alongside the group counselling, veterans are made to take an action-based approach of the Therapeutic Enactment exercises.  The veterans use actions as well as words to describe the traumatic experiences of their time in service.  This is to help the veterans work through the events as in most cases the trauma that they have experience has been caused by actions they were part of or witnessed.  There for some traumas can't be repaired by just talking about them.
Tim Laidler the executive director of the CGCT is himself a veteran who has gone through the Veterans Transition Program. Mr. Laidler served a tour of duty in Kandahar in 2008. Coaxed into the program by a concerned friend, it helped him get his life back on track and inspired him to do a Master's degree in Counselling Psychology.
"Marv and his colleagues have refined this work over twenty years, always listening to the feedback offered by the vets themselves," says Mr. Laidler. "So much time has been devoted to helping vets come forward to ask for help. Now they're coming forward. That tide has turned. The challenge now is having enough trained clinicians to help them."
Mr. Laidler refers here to a growing waiting list for the program which now contains 435 veterans who have signed up for the course but must wait for spots to open.
With the proven success of the CGCT's Veterans Transition Program and the obvious need for expansion of the program, Veterans Affairs has granted further support for the program by awarding a $250,000 grant to help the open a new clinic and extend the amount of help that can be provided.
With the new clinic, the CGCT hopes to bring down the number of Veterans on the waiting list to a more manageable number and getting veterans the help they require as they move back into their civilian lives.
We would like to congratulate the CGCT on this recent funding and we look forward to seeing how the program expands as it continues to support our veterans across Canada.
To learn more about the Veterans Transition Program please visit their site.