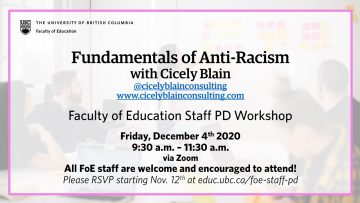 Join fellow staff members at the PD Workshop on December 4th 2020, featuring Keynote speaker, Cicely Blain.

Dr. Samuel Rocha Associate Professor, Department of Educational Studies UBC Friday, November 27, 2020 | 12:30 – 2:00 pm (PST) Host: Dr. Rita Irwin Via Zoom View EDCP November Seminar Poster Abstract Sam Rocha will introduce and expound one of the core claims of his newest book, The Syllabus as Curriculum. This claim is simply […]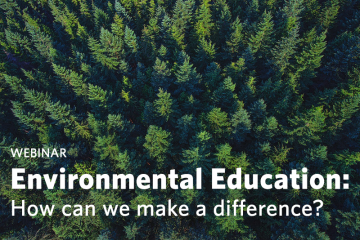 Imagine a future where world leaders have grown up with a deep understanding of the natural environment that sustains us, knowledge that informs responsible decisions that advance our planetary health.
NSERC Alliance Grants Info Session – July 7 (Registration required)
Date: Wednesday, July 29th, 2020 Time: 2:00 p.m. – 3:00 p.m. The Dean invites tenured and tenure-stream faculty members to participate in a Zoom-based town hall meeting entitled Working in the New Normal: COVID-19 and the Next Phase of Research, Teaching, and Access to Campus. Dr. Patsy Duff, Associate Dean, Research, will speak about […]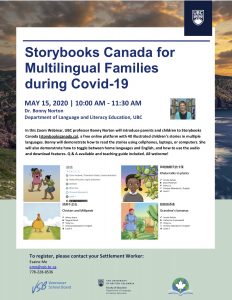 On May 15, Dr. Bonny Norton (LLED) is giving a Webinar for the Vancouver School Board on: Storybooks Canada for Multilingual Families during Covid-19.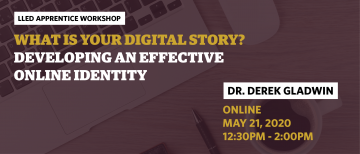 What is your current digital story and how might you rewrite it to reflect your professional goals as a graduate student in education?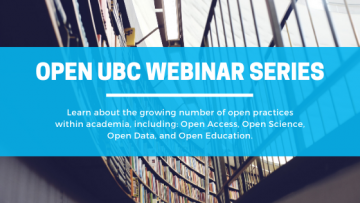 Interested in learning about workflows and processes to make your open education, open data, or open science project a success? Register for a webinar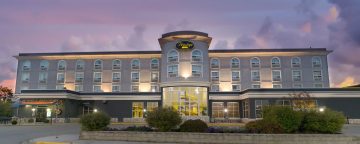 **POSTPONED** – Dean Blye Frank is pleased to invite you to a Faculty of Education Alumni and Friends Reception at the Prestige Treasure Cove Hotel.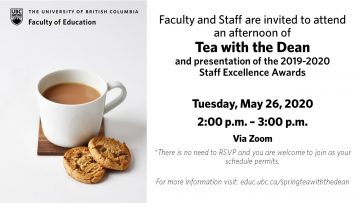 Tuesday, May 26, 2020 | 2:00 pm – 3:00 pm – Faculty and Staff are invited to attend an afternoon of Tea with the Dean and presentation of the 2019-2020 Staff Excellence Awards.