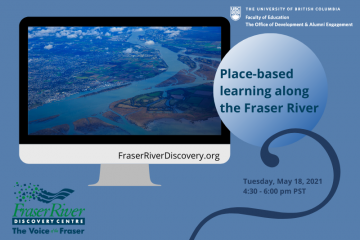 Join our educators as we share strategies for place-based learning that can be applied in your classroom, school grounds, or local parks. Create your own phenology chart and share ideas for adapting the activity for students.
Drs. Joanna Cannon and Sterett Mercer will deliver public presentations in which they will discuss their research interests and achievements, and their vision as the Chris Spencer Foundation Professor. We encourage the Faculty of Education community, including all faculty, students and staff, to attend the presentations and provide feedback through the online form before 4:30 pm on Thursday, April 15, 2021.
Faculty and Staff are invited to attend an afternoon of Tea with the Dean and a presentation of the 2020-2021 Staff Excellence Awards. | Nominate a Faculty of Education staff member today! Nomination packages are due on or before April 16, 2021.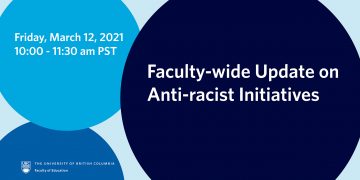 The UBC Faculty of Education invites you to join your Faculty of Education colleagues engaged in scholarly or other work that is helping us move closer to inclusive and socially just work and learning environments that aim to dismantle racist attitudes and behaviours.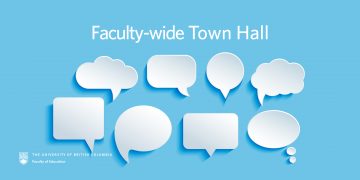 All Faculty of Education faculty, sessional faculty and staff are invited to attend the upcoming Faculty-wide town hall discussion of Winter Term 1 (September, 2021).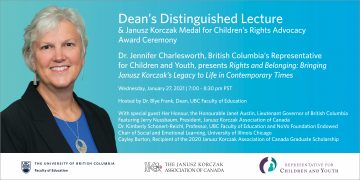 In partnership with the Janusz Korczak Association of Canada and British Columbia's Representative for Children and Youth, the UBC Faculty of Education presents the Dean's Distinguished Lecture and the Janusz Korczak Medal for Children's Rights Advocacy Award Ceremony.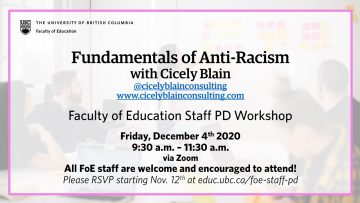 Join fellow staff members at the PD Workshop on December 4th 2020, featuring Keynote speaker, Cicely Blain.

Dr. Samuel Rocha Associate Professor, Department of Educational Studies UBC Friday, November 27, 2020 | 12:30 – 2:00 pm (PST) Host: Dr. Rita Irwin Via Zoom View EDCP November Seminar Poster Abstract Sam Rocha will introduce and expound one of the core claims of his newest book, The Syllabus as Curriculum. This claim is simply […]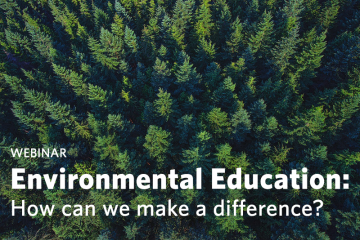 Imagine a future where world leaders have grown up with a deep understanding of the natural environment that sustains us, knowledge that informs responsible decisions that advance our planetary health.