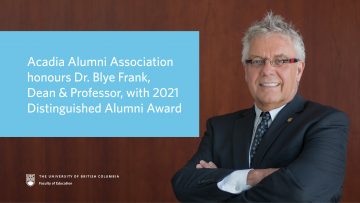 Congratulations to Dr. Blye Frank, Dean and Professor, on his 2021 Distinguished Alumni Award from the Acadia Alumni Association.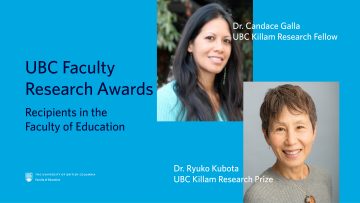 Congratulations to the recipients of UBC's Faculty Research Awards, including faculty members Dr. Candace Galla and Dr. Ryuko Kubota.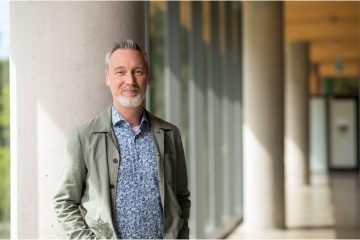 Congratulations to Dr. Leyton Schnellert on his reappointment as Eleanor Rix Professor for Rural Teacher Education for a second three-year term beginning September 1, 2021.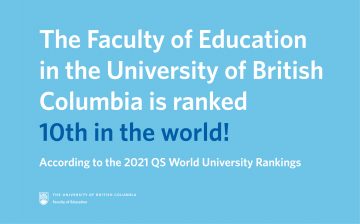 The UBC Faculty of Education in the University of British Columbia is ranked 10th in the world by QS World University Rankings for 2021.
Congratulations to Dr. Jan Hare, Dean pro tem of the UBC Faculty of Education, effective July 1, 2021.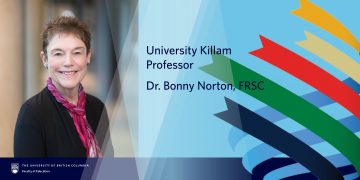 Congratulations to Dr. Bonny Norton, FRSC. The highest honour UBC can confer on a faculty member, a University Killam Professorship recognizes exceptional teachers and researchers who are leaders in their fields, and who have received international recognition for their talents.
Canada Research Chairs' excellence in the pursuit of knowledge elevates Canada's position as a worldwide leader in research. The Faculty of Education is home to six Canada Research Chairs, including three new chairs whose work will make a global impact in data science, Indigenous wellbeing and education.
We congratulate Dr. Handel Kashope Wright on his appointment as the Senior Advisor to the President on Anti-Racism and Inclusive Excellence.